Cupcakes
You will love our moist delectable dark chocolate, white chocolate or butterscotch cupcakes with your choice of velvety smooth swiss merigune flavoured buttercream and assorted decorations.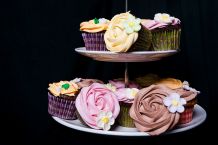 *Note: the prices stated below are for our standard everyday cupcakes. Flavours include; chocolate, strawberry, red velvet, banoffie, peach & passionfruit & carrot. Gluten free chocolate are available on request.
Single undressed $2. 50 each
Single dressed plus one $3. 80 each.
Gluten free $3.80
We can also custom make cupcake flavours, icing and decorations to your specifications. Custom-made cupcakes start at $5.00 each. Gluten free start at $5.50 each.
Contact us to place your order.