About Us
'Making Your Occasion Sweeter'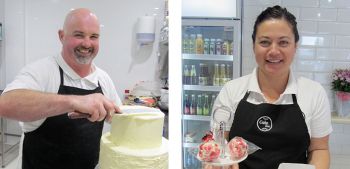 Cake Box is a new Hamilton based Cakery which opened its doors in December 2013. Proudly New Zealand, it is a family owned and operated business. Specialising in all things cake, dessert and sweet - Andrew and Stephanie (Steph) have been baking, decorating and creating delicious cakes for over 15 years.
The goal of offering their customers the freshest, just like homemade products, and to provide friendly and professional customer service is their main focus. The public are able to choose from a divine range of cakes, cheesecakes, sweet pies and treats that are showcased on a daily basis, with the option of ordering custom made celebration or corporate cakes for special occasions and functions. Using high quality, locally sourced ingredients, all of their products are made fresh on site and decorated as you wait.
Other delicious treats that can be made to order are their famous Pineapple Macarons', Cupcakes, White and Dark Chocolate Cookies and hand-rolled Cake Pops.
"We hope you enjoy our products as much as we enjoy baking and creating them for you"
Andrew & Steph